Dento-Facial Aesthetics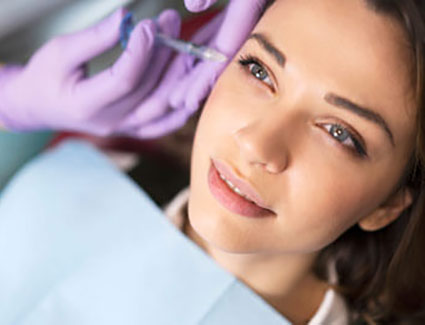 The fine lines and wrinkles that come with age are inevitable. While we can't turn back time, the dento-facial aesthetic solutions at The Smile Factory may reduce the effects of aging. Dentist Dr Hitesh Gupta has completed advanced training at the Australian Academy of Dento-Facial Aesthetics.
We can comfortably soften unwanted lines with the highest quality fillers and anti-wrinkle injections for a more refreshed, youthful appearance. These options can be combined to produce the best aesthetic effect.
Anti-wrinkle Injections
Diminish frown lines and lines around your eyes by relaxing muscle contractions in these key areas for a softer look. Only minimal amounts of injectables will be used to ensure a natural look, with full facial movement retained. You'll usually see immediate improvement after treatment and continue to see changes for up to a week. This treatment lasts for up to six months and then can be topped up.
Dermal Fillers
Your facial features lose volume over the years due to reduced collagen projection. Dermal fillers can replace this plumpness in the cheeks, lips and eye area. Your skin will be hydrated, and collagen production encouraged with a quick injection that can be done over your lunch hour. Treatment lasts for between 12-18 months.

Dento-Facial Aesthetics Broadmeadow, Newcastle NSW | (02) 4037 0903