Invisalign Clear Aligners Broadmeadow in Newcastle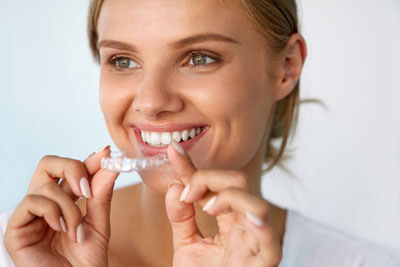 The Smile Factory
offers in-house Invisalign treatments for a discrete solution for gapped, crowded and crooked teeth.
Benefits of Invisalign Clear Aligners
The Invisalign clear aligners system straightens your smile without any metal braces. Each custom-fitted aligner is slightly different than the last, gradually nudging your teeth into a straighter position.
These removable trays are:
Safe and predictable
Discreet
Comfortable
Easy to care for
More attractive than braces
When you wear Invisalign clear aligners, you can remove them to eat or drink whatever you like. Plus, you'll never need to worry about other people seeing you in braces.
The Treatment Process
Your initial consultation will include a discussion about your concerns and taking a 3D scan. This scan allows us to create a simulation of your proposed treatment results before any aligners are made. Our treatment coordinators will also review treatment timelines and fees, if appropriate.
If you decide to begin treatment we'll send your information to the lab, where all of the digitally designed aligners are created. It will take about two weeks before we have your trays ready to wear.
Wear your trays for a minimum of 22 hours a day, only removing them during meals or to brush and floss. Change them out as directed to keep your teeth moving along properly. Usually, that's once every two weeks.
After we fit you with your first set of Invisalign clear aligners, you'll return once a month to check on your progress. After a few months, we'll space your visits out to every six weeks.
Frequently Asked Questions
Aligners are perfect for adults who have fairly healthy teeth and gums but are concerned about the alignment of their smile.
Some cases require as little as six months to complete, while others are up to 18 months. Most of our clients complete their treatment in less than a year.
Yes, you can choose from one of our convenient flexible payment plans.

Invisalign Clear Aligners Broadmeadow, Newcastle NSW | (02) 4037 0903