Emergency Dentistry
Broadmeadow in Newcastle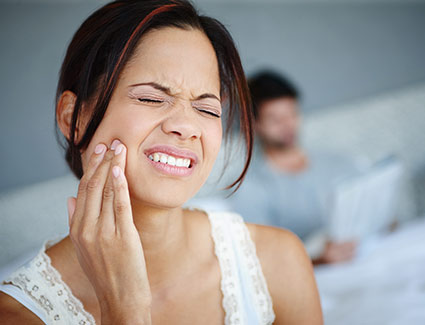 Dental emergencies can happen at any time. At
The Smile Factory
, we want you to get the immediate attention you need. Whether you've had a trauma to the mouth, can't stand the pain of a toothache or simply need an
experienced team's opinion
straightaway, we can help.
Types of Dental Emergencies
When you call to book an emergency visit with us, we'll do all that we can to get you into the practice as soon as possible. In fact, each day, we block out set times on our schedule for emergency appointments so that we make sure we're always 'expecting the unexpected.'
At the end of the day, we always want to make sure that we're here when you need it most. We're happy to help patients experiencing dental emergencies that may include:
Knocked out tooth
Abscess
Wisdom tooth pain
Broken and chipped teeth
Fillings that may have fallen out
Toothaches
Loose crowns
And more
Frequently Asked Questions
Should I visit your practice or the hospital for a dental emergency?
It depends. If you are experiencing bleeding from the mouth that isn't stopping, we recommend going to the emergency room as quickly as possible for medical attention as you may require stitches or surgical intervention. If you are not bleeding or in excruciating pain, we recommend giving our practice a call and we'll do our best to see you as soon as we can-in some cases, we'll be able to get you in right away.
What should I do if a chip a tooth?
If you chip a tooth or knock a tooth out, first try to locate the tooth so that you can bring it in to your visit-we may be able to cement a chipped tooth back together. You'll want to store your tooth in a glass of milk if you cannot place it back in your mouth safely. Then, give us a call to book an appointment.
How long should I wait to visit the practice if I have a toothache?
If a toothache persists for more than 48 hours, you should give us a call to schedule an emergency dental appointment as you may have a cavity that needs attention or an infection that we'd like to get under control quickly.
What can reduce pain until I'm able to get an appointment?
We recommend a few different things for pain relief. You can take over-the-counter pain relievers like Tylenol or ibuprofen. Applying a cold compress or ice pack to the outer cheek may also help reduce swelling if you're experiencing any.
How can I reduce my risk of experiencing a dental emergency?
While life has a way of throwing the unexpected your way, there are some steps that you can take to avoid a dental emergency for yourself or a child. If you or your child are active in sports, you should always wear a custom-fit mouthguard for protection of the teeth, jaw and even brain. We're happy to offer custom-fit mouthguards in the practice-give us a call if you'd like to book an appointment to begin the process.
Contact Us Today
After-hours service is available. Appointments are kept open each day in case of emergency.
CONTACT US »

Emergency Dentistry Broadmeadow, Newcastle NSW | (02) 4037 0903