Meet the Dentists at The Smile Factory
Get to Know Us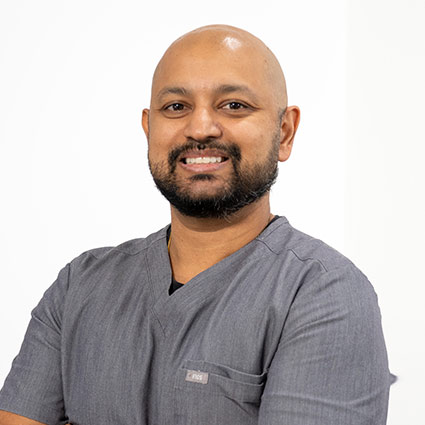 A Passion for Healthy Smiles
Hitesh grew up in Melbourne and Sydney. He obtained a Bachelor of Dental Surgery from the University of Sydney, graduating in 2004. After working in Sydney, the Newcastle beaches and lifestyle lured him to our community. He enjoys helping people and solving their oral health problems.
When you meet Hitesh, you'll immediately be struck by his passion for dentistry. He's dedicated to furthering his knowledge with a particular emphasis on cosmetic dentistry. The training he has undertaken is extensive, such as with the Australian Academy of Dento-Facial Aesthetic (AADFA), and he's a member of the Australian Dental Association.
Outside of the Practice
Hitesh and his wife, Sonja have recently welcomed a baby girl called Samara and enjoy travelling. Hitesh is a keen diver who loves cricket and AFL.
To schedule your appointment with Hitesh, contact us today! We offer a New Patients Special of a no-gap examination, scale and clean including full mouth X-rays and fluoride treatment for those with health funds. The reduced fee for patients without coverage is $189.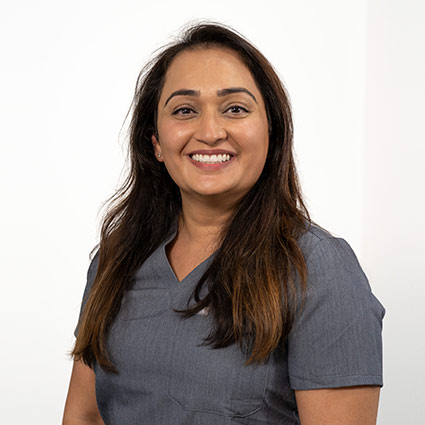 A Lifelong Passion
Mandy Pabla has always wanted to be a dentist ever since visiting the dentist as a child. She appreciates that dentists contribute to the overall health of the general community and loves helping improve the quality of life of her patients.
Since graduating from her dental studies in Toronto, Canada (Bachelor of Human Biology) and then obtaining a Bachelor of Dentistry (Honours) from Sydney University, Mandy has enjoyed caring for her patients, understanding and achieving the results they are seeking when they come in for dental visits.
She particularly enjoys working with and comforting patients with dental anxiety and believes The Smile Factory's caring, modern and up-to-date practice creates a comfortable environment for them to move toward overcoming their dental anxiety.
Outside of the Practice
Mandy is a mum to three beautiful children and enjoys outdoor activity with her family, such as swimming, travelling and reading.
To schedule your appointment with Mandy, contact us today! We offer a New Patient offer of a no-gap examination, scale and clean including full mouth X-rays and fluoride treatment for those with health funds. The reduced fee for patients without coverage is $189.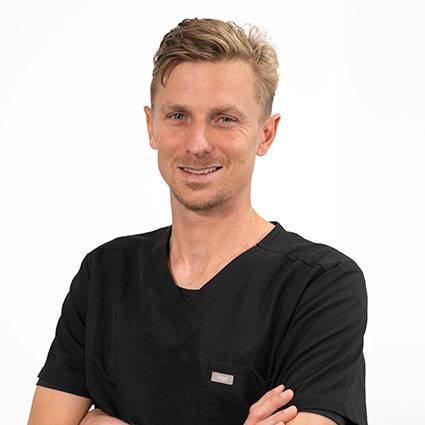 Path to Becoming a Dentist
Ben grew up on Sydney's Northern Beaches. He studied Bachelor of Medical Science and then Bachelor of Dentistry at the University of Sydney, graduating in 2011. After graduation Ben made the move to Newcastle and worked in Adamstown for a number of years. Ben moved to the Central Coast where he ran a successful dental practice for 2 years. He is now excited to be living back in Newcastle and working with Dr Gupta.
Ben is passionate about all areas of dentistry and has done further study in cosmetic dentistry, facial aesthetics as well as areas of holistic dentistry including dental sleep medicine.
Outside of the Practice
When he's not in the practice Ben will be doing something in the outdoors either surfing or fishing.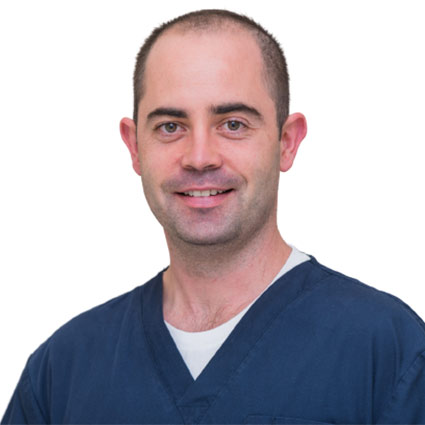 Becoming a Dentist
Cameron was born and raised in Newcastle, and his wife is from the Hunter Valley. He spent the first five years after graduating working in Newcastle and the Hunter Valley, before moving to Sydney. "My wife and I decided to move back to Newcastle to be closer to family, and we believe it will be a better place to raise our two boys."
Cameron has always been interested in science, health, technology and caring professions, naturally dentistry married these interests. One of the most fulfilling aspects of being a dentist for Cameron is developing long-term relationships with patients. It's rewarding for him to see patients bring their families in and watch them grow up over time.
Education & Professional Development
In 2010, Dr Cameron earned a Bachelor of Oral Health in Dental Science and a Graduate Diploma in Dentistry from Griffith University on the Gold Coast. He regularly takes continuing education, and completed the Brener Implant Institute Master Clinician's programme in 2017. He was invited back to assist teaching the course in 2019. He has also completed All-on-4/full arch training at the Brener Institute.
Cameron regularly traveled to the USA to attend training and education at the
American Academy of Implantology
. He is one of the few dentist's in the country that has been approved as a Key Opinion Leader for the Versah Implant Surgical tools and protocols. Whilst Cameron enjoy's all aspects of dentistry, his heart's passion lies in oral surgery, including wisdom teeth removal, dental implants and bone grafting procedures.
Outside the Practice
He likes to play golf (poorly) and enjoys watching sport (he has been a Knights fan since he was a kid). Cameron is also a bit of a self-described nerd who likes board games. He also enjoys wine and cooking, but most of all, spending time with his young family and his Spoodle Frankie.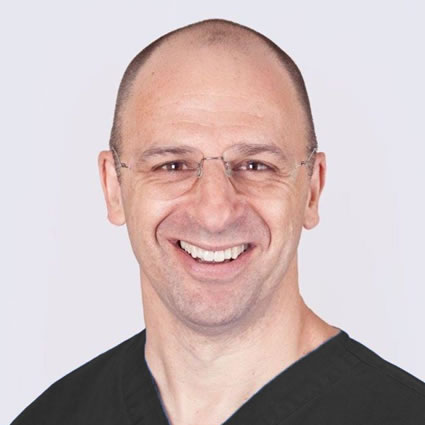 A Passion to Help Others
At the age of 15 Jeff decided that he wanted to be a dentist, but he never imagined that the profession would allow him to make such positive changes to people's lives.
"Dentistry today is still about getting people out of pain and helping them to keep their teeth, but it is also about the prevention of disease, improving confidence and self-esteem through Cosmetic dentistry and improving quality of life by treating sleep and airway problems".
This ethos of helping improve the lives of others is what Jeff loves about dentistry.
Jeff has many very long-standing patients who come from all over NSW to see him. This is due to his open, honest communication style, calm manner, gentle hands (and also probably because he doesn't take himself too seriously). His passion for Cosmetic and Implant dentistry was ignited during his implant training in the 90's with Nobel BioCare (the Swedish inventors of Dental Implants) and through his association with the American Academy of Cosmetic Dentistry. This organisation allowed Jeff to learn from world leaders in this field. In 2003 he also attended the world renown Branemark Implant Centre (Perth) to further refine his skills in Implant surgery. Jeff believes that by taking time to explain and answer questions regarding treatment options he is empowering his patients to make the best decisions for themselves about their long-term oral health.
"I love working with patients to create the smile they have always dreamed of. I work with the patient and together we create an appearance that enhances not just their facial features but is also congruent with their personality. Even though I've seen it 100's of times, the most professionally satisfying part of my job still remains the amazing emotional and psychological transformation we see in our Cosmetic patients. Being the facilitator of such a positive change is truly humbling and rewarding".
Professional Education & Interests
Jeff holds a Bachelor of Dental Surgery and a Graduate Diploma in Clinical Dentistry, both from the University of Sydney. He was also granted a Fellowship from the International Congress of Oral Implantologists (2008).
More recently Jeff has developed a very strong interest in the treatment of Sleep Apnea and Snoring Prevention, especially as this can profoundly affect patients' lives.

Meet the Dentists at The Smile Factory | (02) 4037 0903