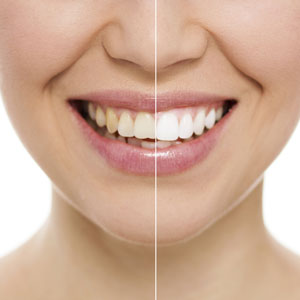 Discoloured teeth can leave you feeling self-conscious. If you've noticed your teeth are stained from drinking too much coffee, smoking or taking certain medications, you can still show off a bright smile. At The Smile Factory, we provide three separate options for teeth whitening.
You can choose to whiten your teeth during an hour-long appointment in our clinic or do so in the comfort and convenience of your home. We've selected the best teeth whitening systems on the market and offer polanight, Zoom and Opalescence®.
You can decide if you would like to have instantaneous results by coming in for a visit or if you prefer to complete your whitening process at home over a period of a couple weeks.
Choices to Whiten Your Teeth
If you would like to have your teeth whitened, we'll be more than happy to meet with you and discuss which system is the best option to meet your particular needs and goals. Below, you can read more about each system we offer:
Zoom – Gain a stunning look in just an hour at our practice. You can come in over your lunchbreak or on a Saturday, making your procedure fit easily into your schedule. We'll protect your gums and other soft tissues, then apply a whitening gel to your teeth. A light is used to accelerate your whitening. The process will be repeated three times for fifteen minutes each time until your teeth have reached their maximum whitening.
polanight – Let your whitening system go to work for you while you get the rest you need. You'll use the pola formula during your sleeping hours. It contains fluoride that will remineralise your teeth, protecting them from sensitivity along with pola's desensitising technology that safeguards the nerves contained in your gums.
Opalescence – Sometimes, only a single tooth can become blackened and you need to specifically target that tooth only. If this is the case, we can provide an effective whitening treatment from Opalescence.
Why Choose Professional Whitening?
With the kits you can buy at the chemist readily available, you may wonder what the advantages are of professional whitening. Our treatments are available in stronger concentrations, giving your whitening a boost. There are no messy strips involved, either.
If you choose at-home whitening, you'll receive customised trays that are comfortable to wear. Plus, you'll be evaluated first so that we can verify you're a candidate, protecting your safety.
Ready for your best smile?
Contact The Smile Factory today to book your whitening consultation!
CONTACT US