Teeth Whitening Broadmeadow in Newcastle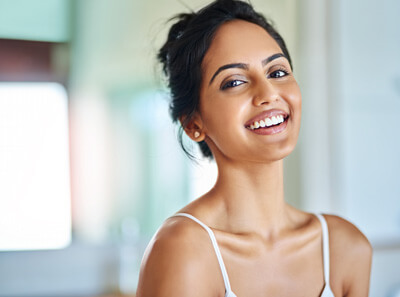 Do tarnished teeth leave you feeling too self-conscious to smile? Whether your teeth have become stained due to certain foods and drinks, smoking or medication, we can brighten your smile with our teeth whitening solutions.
Affordable, effective teeth whitening can be completed in an hour in the The Smile Factory office or in the comfort of your home. Our professional whitening treatments use Zoom, Opalescence® and polanight.
In-house whitening allows you to get quick results, while at-home whitening kit lets you bleach more slowly and can be useful for sensitive teeth.
Our Whitening Options
Zoom! in-chair teeth whitening is a highly convenient option for those looking to achieve a stunning white smile in just an hour. This treatment is perfect for individuals with busy schedules as it can be easily fit into a lunch break. The process involves the application of a specially formulated whitening gel, which is then activated using a UV light. The combination of the gel and light works effectively to eliminate stubborn stains and discoloration, leaving you with noticeably whiter teeth.
Opalescence is an ideal solution for individuals who have a single tooth that has become blackened. This targeted whitening treatment is designed to specifically address the discoloration of a particular tooth. With Opalescence, you can expect effective and noticeable results, as it is formulated to specifically target and whiten the affected tooth, restoring its natural brightness and beauty.
For those seeking a convenient and hassle-free teeth whitening option, Polanight provides an excellent solution. This whitening option allows you to whiten your teeth while you sleep, making it incredibly convenient for individuals with busy lifestyles. In addition to its whitening properties, Polanight also contains fluoride, which helps to remineralize your teeth and protect them against tooth sensitivity. Furthermore, Polanight features pola Desensitising Technology (PDT), which helps to safeguard the nerves of the gums during the whitening process, ensuring a comfortable experience. With Polanight, you can wake up to a brighter and more confident smile.
Benefits of Professional Whitening
An array of whitening toothpastes and strips are on the market these days but these don't yield the excellent results that professional whitening treatments do. Your dentist will first perform an oral exam to determine if your mouth is healthy before beginning the whitening process.
Take-Home Teeth Whitening Kits
If you prefer to whiten your teeth from the comfort of home, we can provide you with custom whitening trays that fit securely over your teeth so you can enjoy the best whitening results possible.
Frequently Asked Questions
Wondering if teeth whitening in Broadmeadow is for you? We'd love to help you find out. If you have questions not answered bellow, feel free to give our practice a call straightaway.
What is professional teeth whitening, and how does it work?
Professional teeth whitening is a cosmetic dental procedure that uses specialised products and equipment to bleach teeth. It typically involves the application of a whitening gel that contains hydrogen peroxide or carbamide peroxide, which breaks down stains on the enamel.
Yes, when performed by a qualified dentist or dental professional, like our team memvers, teeth whitening is generally considered safe. Our team will assess your dental health and ensure that you are a suitable candidate for the procedure before moving forward. Here, we always keep your best interest at heart.
How long does the teeth whitening process take?
In-chair teeth whitening usually takes about 60-90 minutes, while take-home kits may require several weeks of daily or nightly use to achieve desired results.
How many shades whiter can I expect my teeth to become?
The degree and shade of whitening varies from person to person, but you can typically expect your teeth to become several shades whiter in just one visit to our practice. After we evaluate you, we'll have a better idea and can provide you with an accurate estimate.
Is teeth whitening painful or uncomfortable?
Some people may experience temporary tooth sensitivity or gum irritation during or after the procedure, but this usually subsides within a few days. Typically, patients do not have complaints about at-home whitening, which is gentler and can be done from the comfort of your own sofa.
How long do the whitening results last?
The duration of whitening results varies depending on your habits. Avoiding stain-causing foods and beverages and maintaining good oral hygiene can help prolong the effects. Touch-up treatments may also be necessary over time.
Does dental insurance cover teeth whitening?
Not all health fund providers cover cosmetic procedures like teeth whitening. You'll need to check with your specific health fund provider for details, or simply call us and we're happy to check your benefits for you.
Are there any side effects of teeth whitening?
Temporary side effects may include tooth sensitivity and gum irritation, but these are generally mild and short-lived. We'll happily provide you with tips and tricks for managing any discomfort.
Who is a suitable candidate for teeth whitening?
Most people with healthy teeth and gums are candidates for teeth whitening. However, individuals with certain dental conditions or a history of tooth sensitivity may not be ideal candidates.
Always consult with your dentist for personalized information and recommendations regarding teeth whitening treatments. A checkup and clean is recommended prior to whitening for optimal results. Other cosmetic options, like veneers and crowns, may be better options for patients with more severe damage to their smile.
Brighten Your Smile Today
If you'd like to whiten and brighten your smile, we can help. Contact The Smile Factory today to book a consultation with one of our dentists!

Teeth Whitening Broadmeadow, Newcastle NSW | (02) 4037 0903