Teeth Whitening Broadmeadow in Newcastle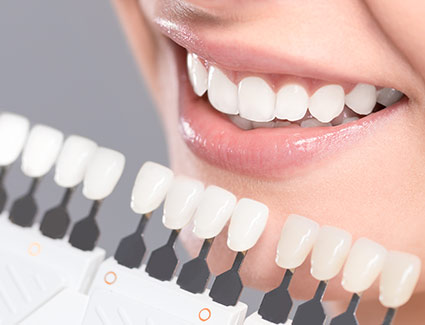 Do tarnished teeth leave you feeling too self-conscious to smile? Whether your teeth have become stained due to certain foods and drinks, smoking or medication, we can brighten your smile with our teeth whitening solutions.
Affordable, effective teeth whitening can be completed in an hour in the The Smile Factory office or in the comfort of your home. Our professional whitening treatments use Zoom, Opalescence® and polanight.
In-house whitening allows you to get quick results, while at-home whitening kit lets you bleach more slowly and can be useful for sensitive teeth.
Our Whitening Options
Zoom! in-chair: Get a stunning white smile in just an hour with Zoom. You can take advantage of this option over your lunchbreak, allowing you to easily fit whitening into your busy day. This popular and effective whitening treatment uses a whitening gel that is activated with a special UV light.
Opalescense: If you have a single tooth that has become blackened, we offer an effective whitening solution with Opalescense.
Polanight: Whiten while you sleep with this convenient tooth whitening option. This formula contains fluoride to remineralise your tooth to shield against tooth sensitivity. It also features pola Desensitising Technology (PDT) to safeguard the nerves of the gums.
Benefits of Professional Whitening
An array of whitening toothpastes and strips are on the market these days but these don't yield the excellent results that professional whitening treatments do. Your dentist will first perform an oral exam to determine if your mouth is healthy before beginning the whitening process.
Take-Home Teeth Whitening Kits
If you prefer to whiten your teeth from the comfort of home, we can provide you with custom whitening trays that fit securely over your teeth so you can enjoy the best whitening results possible.

Teeth Whitening Broadmeadow, Newcastle NSW | (02) 4037 0903