You've probably heard of dental implants. Considered the gold standard in tooth replacement, they look, function and feel just like a natural teeth. With the proper care, they can last for a lifetime! This modern solution isn't just for people who are missing a single tooth. If you are missing multiple teeth and don't want to have a traditional denture, dental implants may be right for you. They're also a fantastic option for anyone who isn't happy with the fit or feel of their denture.
How Dental Implants Can Help You
Dental implants are a revolution within the dental industry. They're unlike any other tooth replacement, and have benefits such as: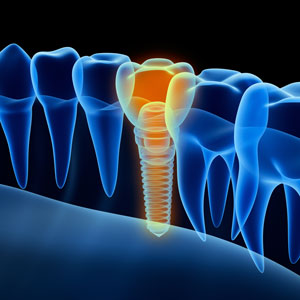 A high success rate
Acting like a natural tooth
Aesthetically pleasing
Better dental hygiene
Completely stable
Created from biocompatible materials
Improving your confidence
Restoring your full facial profile
The preservation of bone and gums
What Is a Dental Implant?
A dental implant is a titanium post that is inserted into your jawbone. Once it has been placed, it must be allowed to heal. After the healing period, you can choose to have a dental crown, dental bridge or denture attached. It allows you to restore a single tooth, multiple teeth or all of your teeth. We will complete this process on site in our practice, making it a convenient one-stop treatment.
Experience Implant-Supported Dentures
An implant-supported denture consists of a number of dental implants on which a denture can be placed. While a regular denture would rest directly on your gums, implant-supported dentures will sit on the dental implant, which is a titanium post. They can replace your upper teeth, your lower teeth or both your upper and lower teeth. When you have an implant-supported denture, you'll feel that they are extremely secure while being natural-looking. You won't have to avoid any of your favourite foods, either.
Considering Your Comfort and Convenience
We want your dental visits to be simple, easy and effective. To get the most from your visits with us, we provide the latest dental techniques and equipment. Dental implants are no exception. We'll walk you through the entire process so that you know exactly what you can expect. During any procedure with us, you can lie back in your comfortable chair and listen to music or watch Netflix on the television mounted to the ceiling.
Learn More Today
Don't delay on improving your oral health and confidence. Contact our team today to schedule your consultation for dental implants!