Often, we see people who aren't just missing teeth — they're missing out on life. If you have gaps in your smile, you might feel like you avoid speaking to people or having your picture taken. Your self-esteem has likely taken a hit and you may lack the confidence you used to have.
At The Smile Factory, we work with our patients to make sure that their smile goals are achieved. With our full range of solutions, you can benefit from the latest advancements in the dental industry. One such state-of-the-art option is a dental implant.
Why Choose Dental Implants?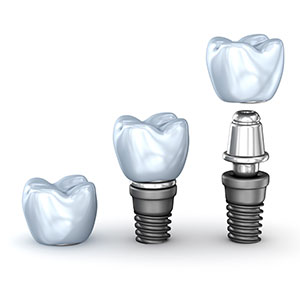 Dental implants are considered the gold standard in the arena of tooth replacement. You may also be curious about dentures or bridges, which we'll be happy to discuss with you. You'll learn which is most appropriate for you and what our dentists recommend.
There are many reasons that people choose dental implants:
Aesthetically pleasing
Allow you to speak normally
Strong and stable
Last for a lifetime
A Two-Step Procedure
To receive a dental implant, the first step involves the surgical placement of the titanium post. The surgery takes place on site in our practice, making it a convenient stop. After a healing period has passed, you can have a crown, bridge or denture attached to the implant, which is also completed in our practice. We'll walk you through each step so that you know exactly what to expect.
The Requirements to Get a Dental Implant
The great news is that many people are candidates to get a dental implant. Your jaw must have stopped growing and you need to have an ample amount of bone in your jaw to receive the implant. Furthermore, your general health and oral health should be up to a certain standard. There may be other improvements we can make if you do not meet these requirements, allowing you to move forward with getting dental implants.
Discover If Dental Implants Are Right for You
Our caring team is here for you. If you'd like to learn whether you can benefit from having dental implants, contact us today! We'll book you in for a consultation with our dental implant expert, Dr Hitesh. At your appointment, we'll evaluate you, then discuss what is most appropriate to reach your goals.
CONTACT US