Teeth Grinding and Clenching Broadmeadow in Newcastle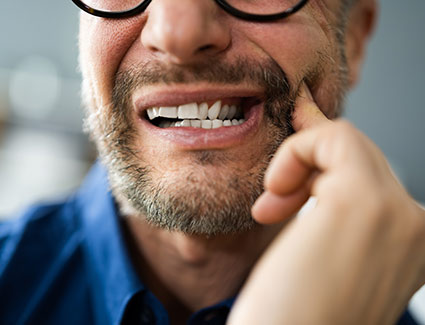 At The Smile Factory, we're committed to making sure that you have a unique, positive experience every time you visit us. With a focus on your comfort, we utilise up-to-date techniques to provide the solutions you need.
If you have pain in your jaw, teeth, face or ears, you may have a problem with grinding or clenching your teeth. It can occur during the day or night and is common, particularly in those who are under a great deal of stress. Our dental team can assist in relieving your pain.
If you grind or clench at night, you may be completely unaware until someone informs you. Addressing your problem can save your teeth from wearing down and prevent you from being in pain.
The Symptoms of Grinding or Clenching Your Teeth
Since many people don't know that they grind or clench, it's important that you know which symptoms to look out for. The common signs that you may be grinding or clenching your teeth include
Aching jaws
Sore teeth
Cracked or chipped teeth
Headaches, particularly upon waking
Ear pain
Jaw joint pain
The sound of grinding teeth during your sleep
You might think that there is no harm in seeing if your grinding or teeth clenching can get better on its own. What you may be facing is teeth that are worn down and broken and constant pain and headaches. The damage can be permanent if you don't get the attention you need.
Eventually, you may lose your teeth and have to look at replacing them, with costs adding up for more complex treatment. You can also find that you're unable to enjoy your day-to-day activities due to your discomfort.
One of the most common forms of treatment is a mouthguard worn during the night, which will protect your teeth from further damage. Also called a splint, your device is custom-created for you in our local laboratory. You'll be able to wear it during night hours with a snug fit against your teeth. With the proper fit, you'll still be able to breathe normally and can speak when wearing your mouthguard.
We also provide injections that can alleviate your jaw clenching. If you press your teeth together, you can have a simple injection that is normally used for cosmetic concerns. What it will do is allow the muscles in your jaw area to relax so that you're not putting pressure on your teeth.
Protect Your Smile and Your Overall Health
If you are concerned about teeth grinding and clenching Broadmeadow, our friendly, gentle and dedicated team can help you. Contact us today to schedule your first consultation! We accept health funds and you can claim your rebate on the spot with our HICAPS machine. If you don't have coverage for the care you need, we'll still be happy to work with you. We provide payment plan options through DentiCare that have no interest and don't require a credit check.
BOOK ONLINE »

Teeth Grinding and Clenching Broadmeadow, Newcastle NSW | (02) 4037 0903