Scale and Clean Broadmeadow in Newcastle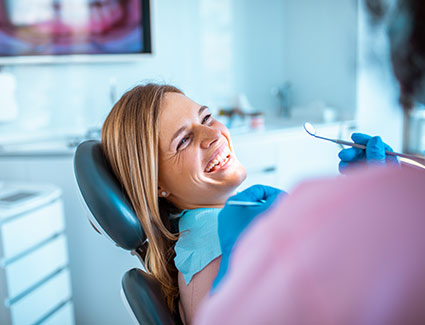 Everyone deserves a stunning, radiant smile that's full of confidence. This is why we provide preventative dentistry services such as scale and cleans. Also known as a professional clean, this simple procedure removes the stubborn or hard-to-reach plaque and tartar that your at-home routine might miss.
Your Regular Clean at The Smile Factory
If you don't attend our practice for a regular, twice-yearly check-up and clean, then you're putting your oral health and hygiene at risk. Not only can stains and discolouration occur, but a build-up of plaque and bacteria can cause concerns such as decay, infection and gum disease.
At your routine scale and clean, your dentist has a thorough look at each of your teeth and all surrounding structures. We'll also screen you for other health issues (such as oral cancer and sleep apnoea) and detail all of our findings to you. In some cases, digital imagery may also be required to gain a more comprehensive overview of your mouth.
Early detection means that any problems discovered will require less invasive treatment and we will be able to preserve your natural teeth as much as possible.
Do You Need a Scale and Clean?
While the easiest way to stay on top of your routine examinations is to book one every 6 months, we understand time can get away from us all. If you can feel a layer on your teeth which brushing doesn't eradicate, then this can indicate a build-up that requires a professional clean. Additionally, if you experience any pain or discomfort (such as jaw pain) or find your teeth are discoloured, then it's best to give us a call.
When was the last time you visited The Smile Factory for a routine scale and clean? Simply call our friendly team to schedule an appointment for you or your loved ones.
If you're experiencing dental pain or discomfort, or fear you may have an infection, don't delay seeking professional advice! Please call (02) 4037 0903 today to schedule a consultation with our experienced dentist.
BOOK ONLINE »

Scale and Clean Broadmeadow, Newcastle NSW | (02) 4037 0903